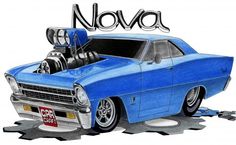 HOW TO LOWER YOUR CHEVY II NOVA
(design date: 4-10-15)
Below is our Idea for a better Lowering Block system on the mono leaf Chevy II
Our BillingPros sponsored 1962 Chevy II is a bracket car and last time out we had some serious issues with spinning the Mickey Thompson ET Drag tires down the track which made me think on some lowering ideas. Although our problem is traction a better weight, power, distribution to the rear is also something I have been thinking about. So I have been working on and installing our current lowering block design on our own Chevy II Bracket Race Car.... hope you all like it!
I can not guarantee you will not wreck or total your own car and maybe even kill someone if you have a failure in your lowering blocks so keep this in mind. All I am doing here is showing another option for lowering the Chevy II and any liability or death as a result in making this idea a reality is all on you for building this idea!
UPDATE - We have made a brand new 3 part Video about this New Design!!...
Finished and Installed - View Video 3 here.
| | |
| --- | --- |
| Step #1 Chevy II Factory Perch. | Step #2 Machine the factory perches and cut / drill aluminum blocks. |
| | |
| | |
| | Step #4 Relax, step back and look how cool and safe they are ...for me, I am going to the 1/4 Mile Drag Strip to blast them down the track. I will post the Youtube links here of the pass or passes we make on this set up. |
| Step #3 Install the lowering blocks. | |
| | |
this is

before

our lowering kit (stock height)

this is

after

our 1 1/2 inch lowering kit installed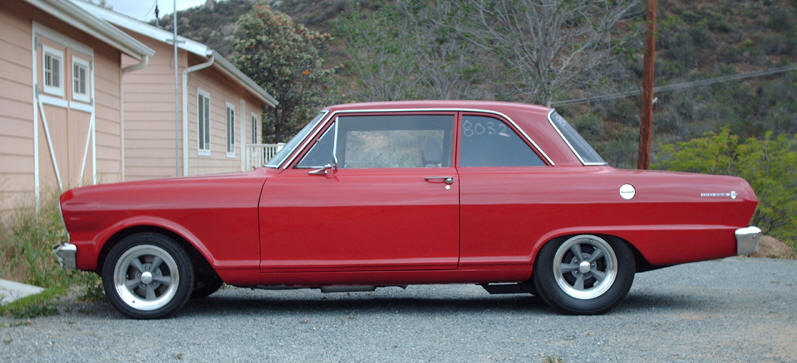 you can also view our older design drawings and notes #1 notes #2 notes #3
you can also view our YouTube page and see the 1962 Chevy II at the Fontana Drag Strip and other stuff
~~ JOE TUCKER ( NOVA JOE ) HAS PASSED AWAY 4-24-16 ~~
I AM NOT SURE WHAT'S GOING ON WITH HIS PARTS BUSINESS
for all your Hard to Find Original 62 thru 67 Chevy II Nova Cars & Parts.... call Joe (817) 637-3452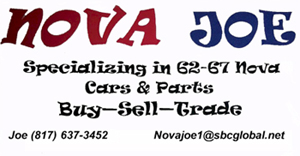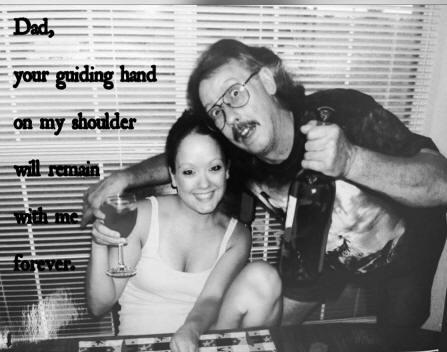 From Joes Daughter Jessica

As some of you know, we lost my Daddy aka: Nova Joe yesterday to his battle with cancer.. Many of you had no idea he was even sick and we kept it quiet. He fought hard for 18 long painful months & now he isn't hurting any longer. Please keep us all in your prayers especially my step mom. This is the single hardest thing we've ever had to do. I love you Daddy. I love you so much. You are the strongest man I know. I am who I am because of you. Words can't begin to describe this pain. I know time will heal. Please watch over us Dad. I know you are up there in hot rod heaven and in no pain & because I know that I will some how get through this. I love you.

BillingPros automated paper and electronic billing and mailing services for business owners.