ONLINE BILLING SERVICES AND MAILING SERVICES

Billing Pros offers our automated paper and electronic online billing and mailing services program for free to small and medium sized business owners who need a professional way to handle their customer billing & mailing. Larger business owners may send us their data for processing.
Billing Pros.Com has totally eliminated the need to purchase any billing program and all the inherent problems associated with them. Our free state of the art online billing program is second to none. Totally designed for the business professional with more features than the most expensive programs. Absolutely the most cost effective and efficient way to manage all your customer billing and mailing successfully from your desktop at the click of a mouse.
Don't Be Fooled Into Purchasing A Billing Program And Then Having To Do All The Work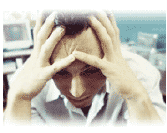 Most billing programs are expensive and are not designed for your business needs. Probably the biggest problems with billing programs is that once you spend a few hundred dollars you will still have to print, fold, and insert your statements / invoices into envelopes, add a return envelope, add postage and then mail them. Another big problem with purchasing billing programs is that if you ever have a computer crash you also have a billing program crash. Reloading all your customers billing information and trying to figure out who is past due and what is owed to you can be a horrible experience.


"Try our Online Paper & Electronic Billing Program...it's free"
#1 Rated Free Email Billing Service Electronically mailing your billing information to your customers is quick, simple and free. Our unlimited, free email billing service is currently rated the number one choice of business owners who email their customers billing information. Billing Pros superior technology in email billing, utilizes a user friendly, point and click approach to handle all your email billing needs. From one to one million customers, you simply point, click and your billing statements are all emailed.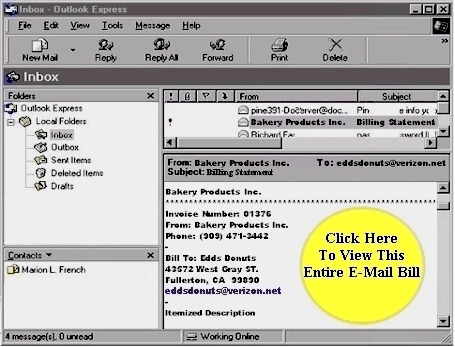 E-mail billing, serves two of three major factors in a successful billing campaign. The first is to simply remind the customer that their payment is now due. The second is to add a click-able option for instant payment, via credit card, check, etc. Paper billing and mailing is the third major factor and is still the most recognized and effective method of collecting payment for services.

Free Customer Account Preview Page The Customer Account Preview Page is designed for quick access enabling your customers to preview their account and payment history 24 hours day. This page is accessed by your customers statement / invoice number, first and last name. The Customer Account Preview Page will help reduce the amount of time dealing with customers billing questions. "Click here & try Customer's Account Preview Page"

Our Home Page

Quick Information

Quick Introduction

Online Billing & Mailing

Paper Billing & Mail Processing

More About Us

Paper Products / Prices

System Status

All Our Services

Contact Us

Users Start Page

Members Login

Your Privacy

Legal Contract

Search The Web

Fundraising Nonprofit Standard Class Mailings
Copyright Protected Content © https://www.billingpros.com billing services All rights reserved.