PAPER AND MAIL PROCESSING SERVICES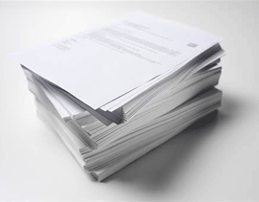 Billing Pros.Com is your complete outsource service provider for all your mailing and mail processing needs. From small hand sorting, folding, inserting, stamping and mailing to complete large scale processing. Billing Pros has the right equipment and expertise to meet all your business mailing and processing services needs.
Billing Pros takes the guess work and expense out of processing and mailing your customers. We use your existing data to create your customers letters, advertisements, billing statements / invoices, direct mail pieces, forms etc,. What ever your mailing outsource requirements are we can make it a reality for pennies per piece. Processing and sending your paper products has never been easier or more cost effective. "We do not lowball our prices only to raise them months later"
The Ideal solutions for large business professionals and small workgroups with advanced printing needs. Our Laser and Offset Printers are capable of both simplex and duplex printing and will give your business professional looking letter, documents and forms each and every time. With Billing Pros in house printing services, it's like having your own personal commercial printing press on your desktop
Our High End Quality Products will deliver the professional results you demand, each and every time. Whether your business is large or small Billing Pros can handle all your needs professionally and on time. Our paper products meet or exceed the highest quality of industry standards. Before any statement, invoice, letter, advertisement or direct mail piece leaves our business it is inspected twice for accuracy, quality and mailing readiness. Billing Pros is truly your one stop source for all your business printing and mailing needs. Billing Pros has been serving Business owners since 1998 and has become the premier name in automated outsource mail processing. Family owned and operated working 24 hours a day 7 days a week including holidays.

Billing pros has the right equipment to handle any type of printing mailing inserting and folding job at a fraction of the cost of in-house mail processing.

Copyright © Protected Content all rights reserved. https://www.billingpros.com billing services