How to fix the Astron Power Supply Amp Meter
Astron 70 model number VS-70M amp meter not working ?
We purchased this Astron 70 amp power supply, new, from Ham Radio Outlet. After installing it in the shack we noticed that the Amp Meter did not work or worked very little ...it was showing something like 2 amps per 100 watts when it worked. Now, most of us know, according to Ohms Law (amps x volts = watts) that, this is just not correct.
Warning: Use Caution: before working on any electronics be sure to unplug and discharge any possible stored energy. Do not attempt to work on any electrical equipment. If you have not had formal electronics training or do not know what your doing or do not understand electrical components and theory. Remember a power supply has more than enough energy to "kill you" and "burn down your house".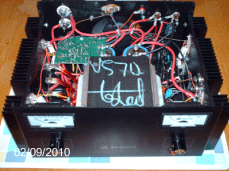 After removing the four screws and opening the top cover of the Astron Power Supply and inspecting for probable causes of the amp meter failure, it looked as though the yellow wire going from the adjustable pod to the the white block resistors was a poor solder job. We re-soldiered the yellow wire and nothing..... still had the faulty amp meter. Using our plastic probe we found that moving the white block resistors on the left side, just below the yellow wire caused the meter to function. We decided to call Astron and find out if they had any notable issues with their Amp Meter. One of the friendly people at Astron told us that the connection plate to where the white block resistors are soldered, is a snap-on type of connection plate and some times it simply has a poor snap on connection.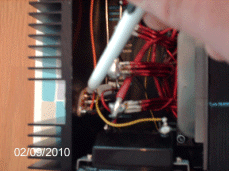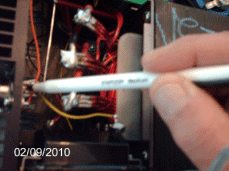 Now, my eye site is not so good any more (neither is my digital camera, as you can see)...so I really had to look at how this popped on ...I did now see, that where the pass transistor on the outer side, connects to the inside, there is a insulated wafer and then the metal connection plate that in-fact pops on top of the insulated wafer.
The Astron Power Supply fix is rather simple ....just put some solder on that pop-on metal tab connection just above where the yellow wire connects to the white block resistors opposite side of the pass transistor and your all fixed (look at the two pictures as I am pointing to the pop-on metal tab connection) . I went ahead and put solder on all 4 of the top pop on connections located opposite side of each top, pass transistor.... as by factory design they solely rely on just the pop on metal connection tab for their connections... oh, I think the top, right rear had factory solder.
I guess, since I had just purchased this Astron power supply with the meter not working, I could have just taken it back! But to be honest 'I am just too geeky with electronics' and the way things work. Besides, this is nice to know if this problem happens 1 year from now when your warranty expires. Please feel free to link to this page or copy this page and put it in your own website.
About me, my name is Sam and I am a Ham Radio Operator KI6DTC . We have lots of old radio gear that we fix and repair ourselves. I am also a Business Owner Billing Pros.Com in which we have lots of business equipment that we also fix and repair ourselves. I have been into radio since I was 13 years old, when Santa Claus brought me a Realistic Navaho TRC-30A Base Station (which I still have today). In writing this I am currently 48 years old. My father was a hard working man who provided a good life for me, my 2 Sisters and Mother, I know the $100.00 price tag plus antenna, pipe, and coax was a budget buster. But my Father also knew how much I wanted a Radio. In my younger days, my Dad and I had a very tumultuous relationship, but ..later in life as I became a Man, my Dad and I talked at least 3 times a day by telephone for over 10 years. My Father passed away 12-11-09 and I miss him dearly as he was truly my best friend 'Keith Douglas Moriarity'.
Life is about learning, and helping other as we go.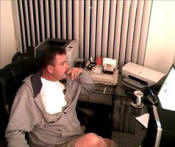 Sam G. Moriarity
KI6DTC
File: astron power supply, amp meter not working

Free Live Broadcasting from your PC, Laptop or Cellphone. Voice Chat to the world for Free.

Learn how to build a 80 Meter 1/2 Wave Wire Antenna with out the need of a Tuner.

Learn how to test the 3-500Z Tube.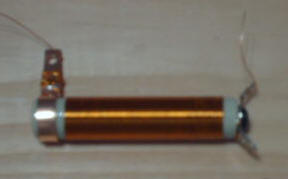 Learn How - Winding your own Inductor RF Choke.