PAPER PRODUCTS AND PRICES
We can custom design your Statement or Invoice at no additional charge
"Click on the sample images below to enlarge"
From $1.29 to .46
From $1.29 to .46
From $1.29 to .46

From $1.29 to .46

From $1.29 to .46

Full Sheet Invoice

Full Sheet Statement


Full Sheet Invoice

Full Sheet
Statement or Invoice

Full Sheet Invoice
The above prices include the printing of the Statement / Invoice or Letter, 1 #10 double window envelope,
1 #9 return envelope and first class postage - prices start at $1.29 to as low as only .46 cents.
Absolute Best Prices In Volume Discounts

Over 100 per month call us on special reduced pricing
Larger Business Owners be sure to call us on Special Discounted Bulk Rate Presorted 1st Class Mailing Prices. Large volume 1st class mailing at the lowest possible prices.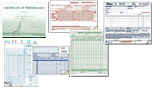 For Prices on Customer Supplied Material Processing, Printing, Mailing, Letters, Advertisements and Direct Mail processing please call the office or email us.

Our Home Page

Quick Information

Quick Introduction

Online Billing & Mailing

Paper Billing & Mail Processing


More About Us

Paper Products / Prices

System Status

All Our Services

Contact Us


Users Start Page

Members Login

Your Privacy

Legal Contract

Search The Web


Fundraising Nonprofit Standard Class Mailings
Copyright Protected Content © http://www.billingpros.com billing services All rights reserved.